Orange Flavour // 17 Tablets
Wakey Wakey Caffeine Energy PLUS Immunity Effervescent contain 100mg Caffeine + Guarana to enhance energy levels, as well as 1000mg Vitamin C and Zinc to support immune system health. 
➕ Vitamin C + Zinc
➕ Supports immune health
➕ Boost energy levels 
➕ Promotes mental endurance
➕ Less than 12 calories
➕ Non-GMO | Vegan
Directions

DISSOLVE ONE TABLET IN 200 ml OF WATER. NO MORE THAN 2 TABLET PER DAY OR AS DIRECTED BY YOUR HEALTHCARE PROFESSIONAL. KEEP AT LEAST 3 HOURS INTERVAL BETWEEN EACH DOSE.

Ingredients

ACTIVE INGREDIENTS: CAFFEINE 40 mg, PAULLINIA CUPANA (GUARANA) SEED EXTRACT DRY CONC. 273 mg EQUIV. PAULLINIA CUPANA DRY 956 mg (EQUIV. CAFFEINE 60 mg), ASCORBIC ACID (VIT C) 1000 mg, ZINC (AS ZINC GLUCONATE) 10 mg,THIAMINE (VIT B1) (AS THIAMINE HYDROCHLORIDE) 10 mg, NICOTINAMIDE (VIT B3) 10 mg.
TOTAL CAFFEINE 100 mg.
Warning

Always read the label and follow the directions for use.

ADULTS ONLY. NOT SUITABLE FOR CHILDREN. CAFFEINE INTAKE OF MORE THAN 200 mg PER DAY IS NOT RECOMMENDED DURING PREGNANCY OR BREASTFEEDING. CONTAINS 100 mg OF CAFFEINE PER TABLET. A CUP OF INSTANT COFFEE CONTAINS APPROXIMATELY 80 mg OF CAFFEINE. LIMIT THE USE OF CAFFEINE – CONTAINING PRODUCTS (INCLUDING TEA AND COFFEE) WHEN TAKING THIS PRODUCT. CAFFEINE INTERACTS WITH THE LIVER ENZYME CYP1A2. CONSULT YOUR HEALTHCARE PROFESSIONAL BEFORE TAKING WITH OTHER MEDICINES. CONTAINS ASPARTAME NOT SUITABLE FOR PHENYLKETONURICS.

IF SYMPTOMS PERSIST, CONSULT CONSULT YOUR HEALTHCARE PROFESSIONAL.

VITAMIN SUPPLEMENTS SHOULD NOT REPLACE A BALANCED DIET.

EACH TABLET CONTAINS NOT YOUR HEALTHCARE 280 mg OF SODIUM. CONTAINS GLUCOSE.
Storage

Store tube tightly closed in a cool dry place, below 25°C. Do not use if tamper evident seal is broken.
View full details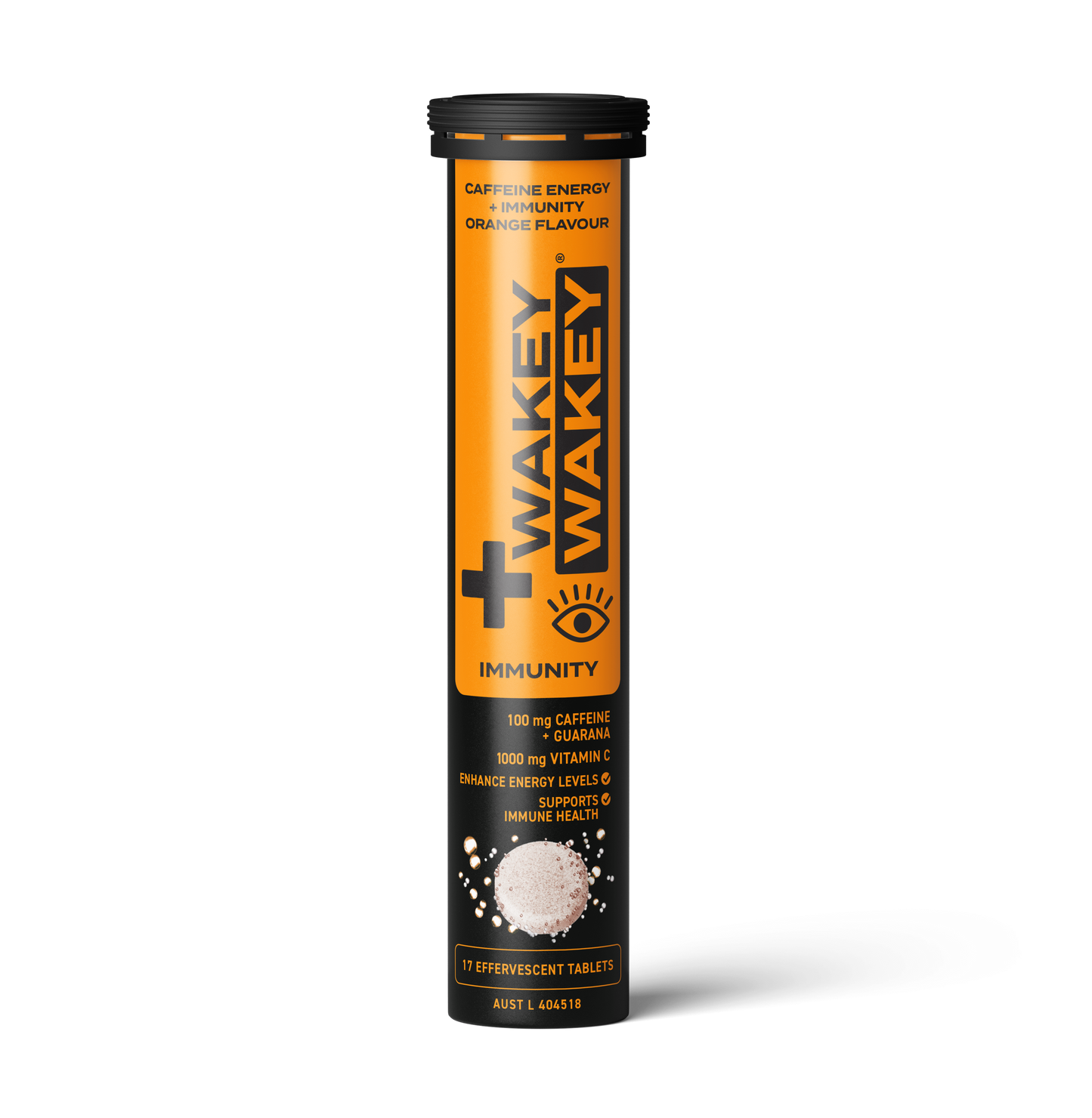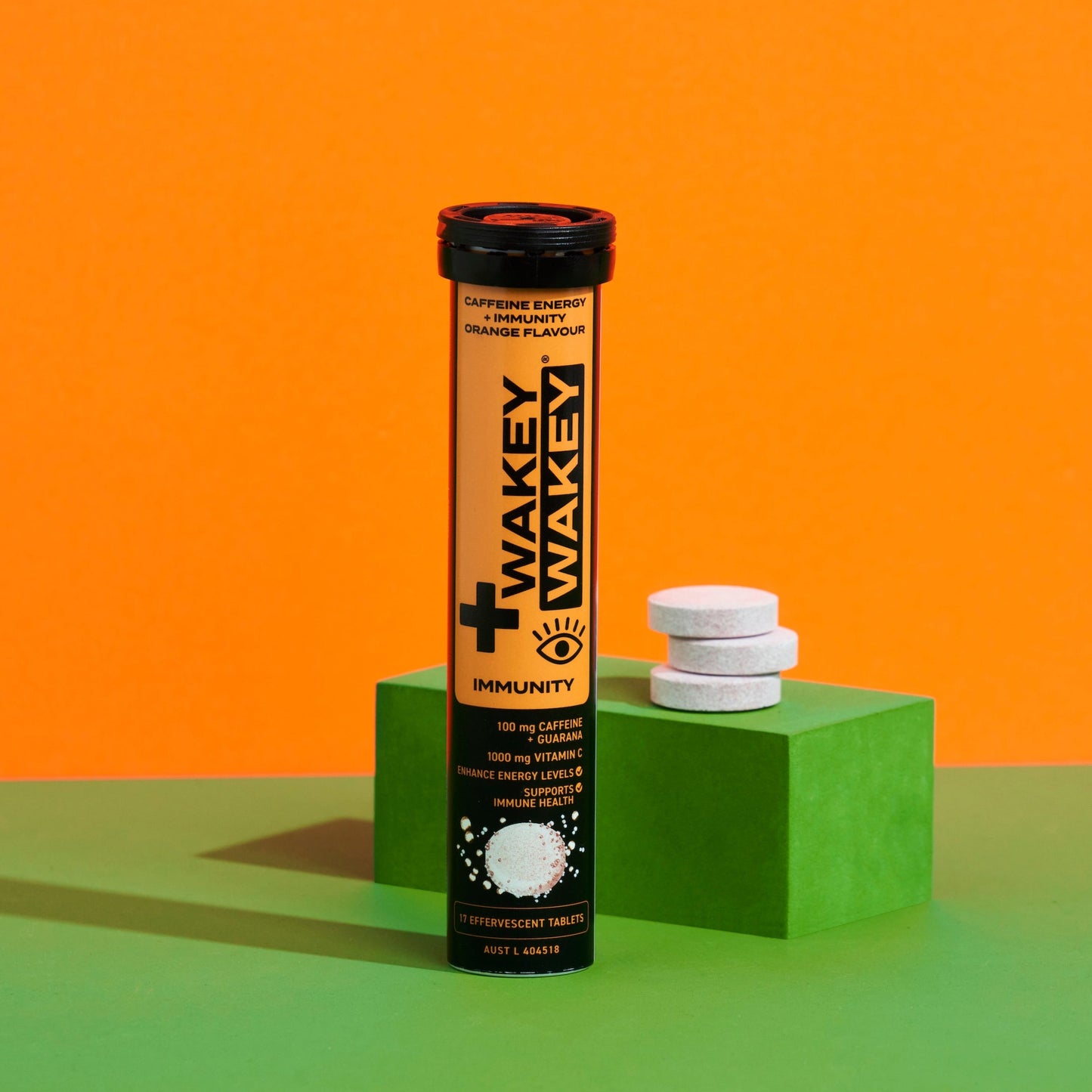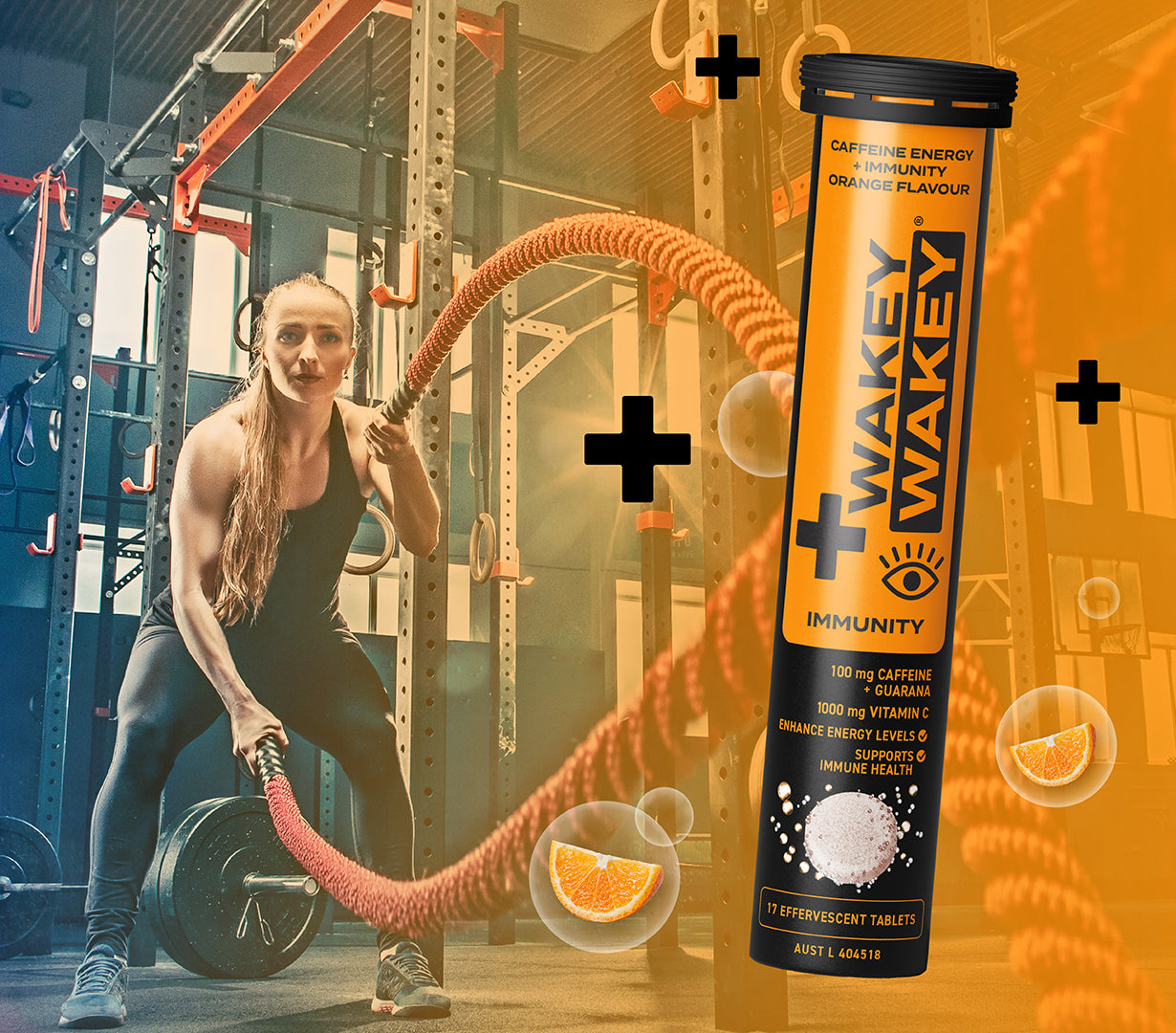 CAFFEINE & GUARANA ENERGY WITH VITAMIN C
Wakey Wakey Caffeine Energy Plus Immunity contains 1000mg Vitamin C to support immune system health, as well as B Vitamins and Zinc.
Learn More
Frequently Asked Questions
HOW IS CAFFEINE ABSORBED INTO THE BODY?

Caffeine is rapidly and completely absorbed in humans, with 99 percent being absorbed within 45 minutes of ingestion!


Individual absorption can often depend on genetic variability and each person will ingest caffeine differently. It's important you consume what's best for you!
HOW LONG DOES CAFFEINE LAST IN YOUR SYSTEM?

Depending on how the caffeine is metabolised by your body, caffeine could last up to 9-10 hours! This could however be impacted if you're pregnant, a smoker and have impaired liver function.²
What do the different B vitamins do in Wakey Wakey?

B1 - Otherwise known as Thiamine, B1 plays an essential role by assisting the conversion of food into energy for the body. B1 was the very first B vitamin discovered by scientists.³,⁴

B3 - Also known as Niacin, B3 is a vital nutrient that is utilised by every part of your body. It assists in boosting brain function, as well as many other benefits.⁵

B6 - A vitamin that assists with the central nervous system and metabolism.⁶

B12 - A nutrient that assists your body's blood and nerve cells to be healthy.⁷
What does vitamin C do in Wakey Wakey?

With the scientific name Ascorbic
Acid, Vitamin C is required for growth, development and repair of all body tissues. This includes the production of collagen, immune system function and
wound healing.⁸
WHY IS GUARANA IN WAKEY WAKEY?

Otherwise known as Paullinia Cupana, guarana is a plant found in the amazon that contains caffeine. It works to stimulate the central nervous system and is taken to enhance the likes of athletic and mental performance.⁹
WHAT HAPPENS IF I TAKE TOO MUCH CAFFEINE?

Excessive caffeine consumption may cause some side effects such as restlessness, tremors, insomnia and headaches. Please take as per the directions on pack, if symptoms persist please see your health care professional.